What is a Quantum Revolution?
The Quantum Revolution Tour (QRT) is the brainchild of spiritual teacher, quantum sound healer, life coach, and medical intuitive Jessica Alstrom. She's the founder of Transcendence International Consciousness Academy and the global coaching forum Quantum Life. She reaches more than 100 countries worldwide through her online venues from her home base in Kansas.
"Quantum" can be thought of as the tiniest, virtual particle that composes all things. The quantum field is the stuff out of which all is made. Therefore, it contains every possibility and represents all things. ~ Jessica Alstrom, Me, Myself and I
The Quantum Revolution Tour is designed to help you step into your power—your true quantum potential. The next Quantum Revolution event takes place in Las Vegas on March 22 to 24, 2019. This three-day event is designed through Jessica's deep intuitive focus to help you get in touch with who you really are—your higher self, clarify your purpose, and create a plan to access the abundance and freedom you've been seeking in your life. Its goal is also to deeply support you in breaking old habits and patterns that have been holding you back.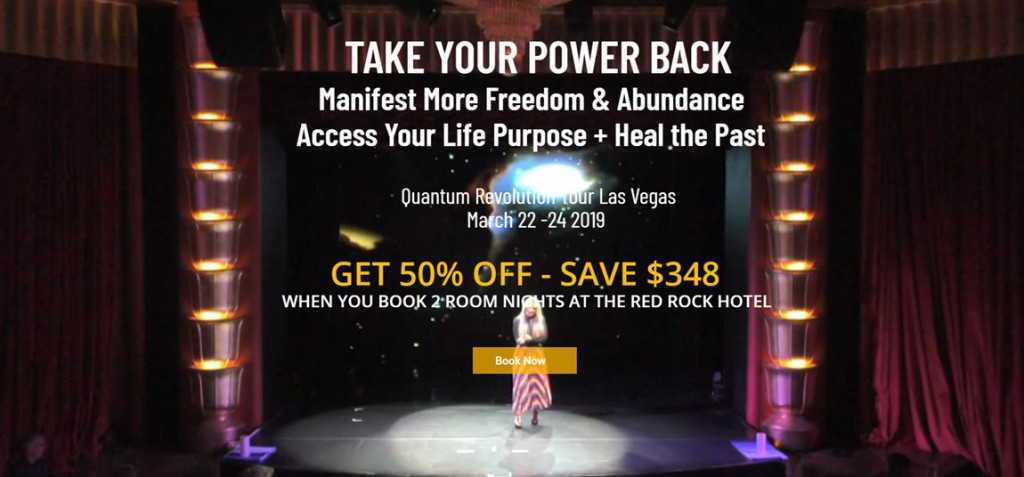 Mind Blown!
I attended the first Quantum Revolution event in Miami in October, 2018. From my experience there, I would definitely call it a personal revolution. This is what I said after the event…
Mind blown!! Heart opened wide!! Matrix hacked!! DNA download and activation complete!! What did I like most about the Event? OMG!!! The entire event!! If I had to pick one thing, it would be the inner result of my showing up, playing full-on, and feeling my higher-self more present within me at the end of all the amazing celebrating!!

My key takeaways in awareness were Jessica's re-iteration of saying "Yes!" to ourselves, and her (always helpful) reminders to Trust ourselves and our inner guidance as the foundation for an opening to all of our gifts and potentials. My key experiential takeaways were many: the peeling away of layers and layers of blocks and lifetimes of programming and limitation; the conscious awareness of DNA activation throughout my body, especially during the breath-work sessions; the proofs (during, afterward, and ongoing) that my gifts were expanded exponentially by the weekend.
Renaissance of Awakening
As amazing as the QRT Miami event was, a mind-blowing experience like no other for me, it was also something bigger. I see it as part of the massive renaissance of awakening gaining momentum in our world. I see it as a huge part of the answer to the question so many of us have been asking in various ways: "How can we change our course, awakening ourselves and our world?"
Jessica has answered her own inner call to step forward to do this work. She has been called a teacher, to which she always replies that her job is to remind us of what we already know. She is here to remind us of ourselves in new and amazing ways.
Experiential Six-Sense Immersion
The Quantum Revolution Tour is about you. It is an immersive, all-sense, experiential three-day event devoted to permanently elevating your life. It is dedicated to you becoming the best version of you that you are here on Earth to become!
The Quantum Revolution Las Vegas event's immersive environment is designed to elevate our vibrational (emotional) frequency off the charts. Literally, the immersion is total, involving the five physical senses and numerous energetic senses. I know of nothing anywhere else as full-spectrum immersive as the QRT events.
The Quantum Revolution Tour is the epitome of "hacking the matrix." It brings together quantum physics and the power of love—through the spirit of Mother Africa—to help you eliminate fears that have been holding you back so you can step into your full potential.
Transcended States
The experiential and teaching content throughout the weekend is designed to flow, building from each session to the next. The immersive modalities and environment of the event are designed to help you transcend everyday mindsets and emotional states. From a greater state of ease, you will have access to deeply meditative states and Gamma states of truth. These transcended states will help you in eliminating fear and focusing on what's most important to you in your life.
Starting on the first day, we will elevate our brainwave frequencies past meditative states from Alpha to Theta, moving into Gamma, or the God frequency. The goal will be to jam out the high-beta background noise of societal conditioning to move us into states in which we can experience our essential higher-self nature as we've never been able to do before.
There will be amazing music to elevate our mood and move our bodies freely in dance. We'll have custom-designed blends of crystal-infused essential oils of the highest quality to flood our olfactory sense, bringing clarity and healing to body, mind, and spirit. We'll be fed decadent organic high-vibrational food to further help birth our deeper states of self-awareness. There will be healing sounds of all kinds interspersed throughout the weekend to further enhance our experience and elevation. We'll do guided meditations and breath-work to invoke our body's natural DMT producing abilities, allowing us to go even deeper into metaphysical states of awareness.
Imprinting Gamma Frequency
The visual environment of the Red Rock Hotel will flood our visual sense with a vibrant "Mother Africa" theme fitting with the music and content of the event. The environment will be further elevated and supported using Quantum Sound Therapy's iQube scalar wave technology, based on Nicola Tesla's work. We will drink quantum structured water throughout the weekend, designed to further elevate our vibrational experience into the Gamma frequency range.
All of these modalities are dedicated to bringing more light into our bodies to help us transcend previous fears, blocks, and limitations, and bring healing into our everyday lives. The experiential nature of the event is designed to imprint us with the unmistakable experience of the Gamma brainwave state. Included in all of the teachings and immersive nature of the experience will be the knowledge we will need to bring the imprinting of the weekend home with us to continue to experience in our daily lives.
It's Time to Heal Our World
In my testimonial about Miami above, I didn't include that my third eye (pineal gland) opened wide. I saw things I had never seen before that illustrated how deeply supported we were in our showing up at that event. Although the event was an experiential seminar, it was much more. All of us were a collective beacon, sending out a message to our world to wake up. The experience of my third eye opening, and the resulting vision, made it undeniably clear to me how so many "people" in the invisible want us and our world to awaken fully. They are completely committed to us in love and support.
The QRT Las Vegas event will build on the Miami experience. The immersive experience will go even deeper than Miami did. Also—and this is not an official part of the event—we will hold a healing ceremony at the location of a traumatic event in Las Vegas, and for Las Vegas in general.
50% Off QRT Las Vegas Ticket Promotion
If you love Jessica's work, as I do, or if any of this speaks to you, the Quantum Revolution Tour has a 50% off promotion on now until February 20. The promotion is linked to booking your hotel room with the Red Rock Resort and Spa, the venue for the Quantum Revolution Tour. The web link is provided below.
The full price for QRT Las Vegas is USD$697. You'll pay $348.50. A three-month payment plan is also available (three monthly payments of $126.50).
The advantages of booking here are:
You'll be staying where the event will be held.
Last I checked, there were no rooms otherwise available there for one or more nights of the event.
You'll get a 50% discount off the full price of the QRT Las Vegas ticket.
For this promotion, follow these three steps:
1. Reserve your hotel room for two or more nights at the Red Rock Resort and Spa. This is the link for QRT Las Vegas: Reserve your QRT hotel room
2. Upon making your reservation, send your room booking reference number to me by text or email and I'll reply with the promotional link for your 50%-off QRT ticket.
3. Use the link I send you to purchase your 50%-discounted QRT Las Vegas ticket!
Warrior Training as Prep for Las Vegas Event
One last thing to tell you is about Jessica's ongoing eight-week Warrior Training program. I'm enrolled in it and finding it both challenging and tremendously rewarding and insightful. It's getting to the root of my own internal battles that keep me from fully realizing my own potentials.
My experience of it is that it is Jessica's crowning achievement of her teaching to date. She designed it as preparation to help us get the most out of the Quantum Revolution Tour Las Vegas event.
The Warrior Training is normally $297 for the eight-week program, but the special at $197 has been extended. And the $197 Warrior Training tuition can be applied to your Las Vegas Quantum Revolution Tour event ticket price!
It's not too late to join the program. Here's the link to Jessica's video describing the workshop:
Quantum Revolution Warrior Training
More Information about the Quantum Revolution Tour
Quantum Revolution Tour Website
Highlights of the Miami Quantum Revolution Tour Event
Quantum Revolution Community Facebook Group